Indian Roadmaster
Indian Roadmaster
Ride away from £23,699
click here for more information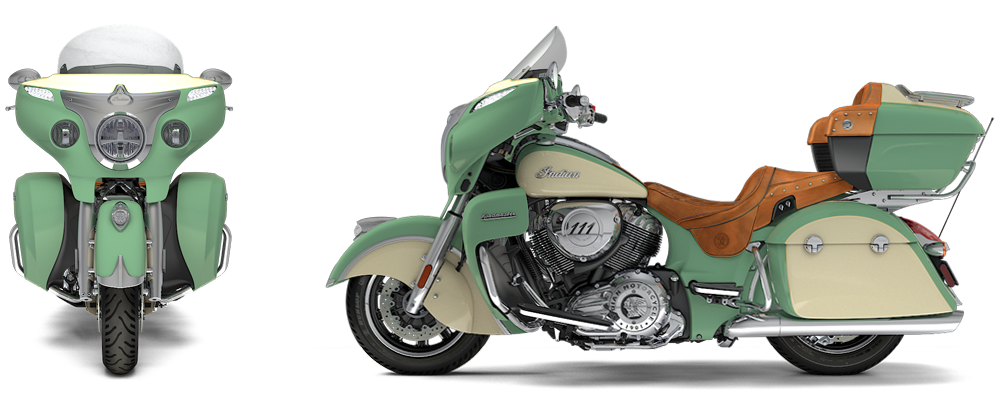 A STORIED SOUL IN A BRAND NEW BIKE.
The 2016 Indian® Roadmaster™ reflects pure American Luxury. Building upon the iconic Roadmaster name used by Indian in the 1940s, the new Roadmaster reimagines Indian Motorcycle comfort, styling and performance out on the open road, for the long haul.
HORIZON POWER WINDSHIELDHorizon Power Windshield Adjust this new Horizon Power Windshield with push-button adjustability to customize airflow, provide weather protection, and reduce glare.
STORAGEStorage Over 37 Gallons of weatherproof storage in the convenient saddlebags, roomy trunk, lowers, and fairing including convenient front storage in the lowers that's easily accessible to the driver while riding
REMOTE LOCKING STORAGE
Saddlebags and trunk remote lock, providing push-button security and convenience.
HEATED SEATS
Heated Seats Heated rider and passenger seats with individual controls and high and low settings.
HEATED GRIPS
Heated Grips Adjust heated grips for the right temperature with ten settings.
ADJUSTABLE PASSENGER FLOORBOARDSAdjustable Passenger Floorboards Give your passenger the ultimate riding experience and leg room comfort with adjustable floorboards.
PATHFINDER LED LIGHTINGPathfinder LED Lighting Headlight, fog lights, turn signals, taillight, and even the front fender War Bonnet provides the brightest, more reliable lighting.
KEYLESS IGNITIONEnjoy keyless starting that's secure and convenient. With the Indian® Chief® Classic key fob in your pocket, climb on the bike, push a button and ride. If you misplace the fob, use the individual security code that you pre-programmed into the ignition.