Indian Chieftain Dark Horse
Indian Chieftain Dark Horse
Ride away from £20,899
click here for more information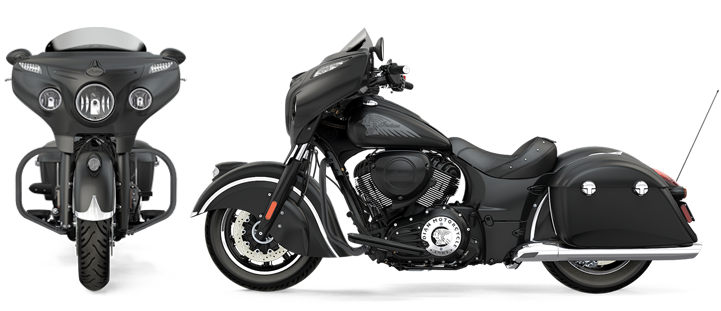 Tell Darker Tales
The latest addition to the Dark Horse family, this badass bagger is powered by the legendary Thunder Stroke 111 V-twin. But what really sets this bike apart are its exclusive features, like a blacked-out fairing, front forks and, of course, that unmistakable Dark Horse fuel tank. It all adds up to a presence that refuses to be ignored. Be Legendary.
Vintage Badging
Indian Motorcycle® Badging: One of the classic elements of an Indian Motorcycle® is the vintage badging. Ever since the Indian® script logo was first created in 1910, this feature has made the Indian Motorcycle® badging a hallmark of this historic brand.
War Bonnet
Lighting the way as it has done since 1947 is the iconic War Bonnet. Mounted proudly atop the front fender in a chrome frame, this light makes it clear, "This is a genuine Indian Motorcycle®."
Valenced Fenders
Stylish, elegant and functional, the iconic valenced fenders, standard since 1940, enhance the flowing styling lines of every Indian Motorcycle®. They also provide protection, effectively blocking road spray and gravel kicked up by the tyres.